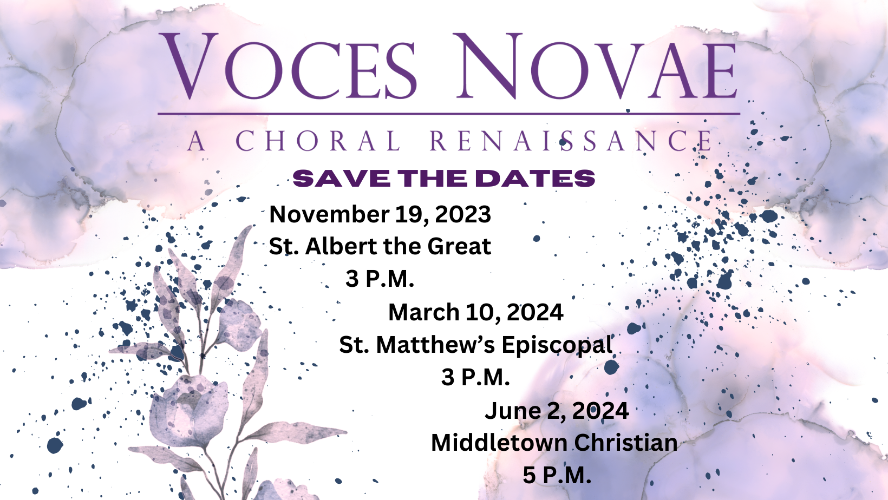 Choral Icons of the Last 30 Years
Sunday, November 19th, 2023, at 3:00 PM
Location: St. Albert the Great Church
In recognition of our 30th season, this concert will focus on choral icons of the last 30 years, featuring music by composers who have defined choral music during the life of Voces Novae. Some of the pieces will be iconic songs by those composers, while others may be less familiar. Composers will include Eric Whitacre, Moses Hogan, Elaine Hagenberg, René Clausen, and Z. Randall Stroope, among others.
Concert 2 – A Cappella
Sunday, March 10th, 2024, at 3:00 PM
Location: St. Matthews Episcopal Church
This concert will be performed entirely a cappella, as this has been a trademark of Voces Novae over the last 30 seasons. Composers/piece to be announced at a later date.
Concert 3 – Fan Favorites
Sunday, June 2, 2024 at 5:00 PM
Location: Middletown Christian Church
Our third and final concert this season will be comprised of favorite selections throughout Voces Novae's 30-season history as chosen by the choir and YOU! This concert will also bring back the alumni format Voces Novae has had in past seasons, with both members and staff alike invited back to perform a few of the favorites with the current Voces Novae members! If you are a VN alum reach out (contact VN Vice President, Lori Perkins or email administrator@vocesnovaelouisville.com) for more information on how to participate!
Congratulations to our Artistic Director, Angela Vaughn Hampton, on her selection as Most Admired Woman in the Arts 2021!
© 2023 Voces Novae
All Rights Reserved.
All programs, activities, and services will be provided equally without regard to race, color, religion, national origin, age, gender, sexual orientation, or disability.