Stories: Tales and Truths
Tonight, we share stories with you. There will be moments of whimsy, adventure, despair and celebration. There will be fact and fiction, history and imagination. We will play with a fiddling cat, a laughing dog, a jumping cow, Old King Cole and Georgie Porgie; we will cheer on the tortoise as he races against the hare; we will witness Paul Revere's historic ride and experience the agony of Beethoven losing his hearing and nearly taking his life. The women of Voces Novae will recount the story of a young girl learning to tend a garden followed by the men relating the hilarious tale of a preacher's encounter with a grizzly bear. Finally, we will proclaim the Bible stories of Daniel, Nicodemus and Samson. We invite you to connect to the characters we introduce and the stories we tell through our music.
Mother Goose Gems
Stephen Shewan (b. 1962)
The composer, Stephen Shewan, describes his work –
Whenever I took life too seriously, my mom, Nancy, would offer the sage advice, "never lose your inner child." It is fitting that this musical tribute in her memory be a collection of nursery rhymes, many that she read to us as children..."The cat and the fiddle" in "Hey Diddle, Diddle!" inspired me to set the opening movement in an American hoedown---style. The bend in "moon" depicts the cow ''mooing" while jumping. (I couldn't resist bending on "spoon" as well.) The piano part in "Star Light Star Bright" should sparkle like stars. I tipped my musical hat to Leonard Bernstein's "Tonight" in measures 13---14. "Old King Cole" is set for tenor, baritone and bass sections, representing the "fiddlers three." The triple meter sections also portray the "fiddlers three" while the piano plays fiddle---like tunes. There are various theories as to whether King Cole's pipe is something he smoked or an instrument ( the pipe) that he played along with the "fiddlers three." In this version, he smokes his pipe and plays his fiddle. To capture that, the setting is both silly and stately, because he was, after all, a king. "Georgie Porgie" is an eclectic mix of contemporary harmonies and Jerry Lee Lewis style piano rhythms. Exaggerated piano dynamics will add humor to "Georgie Porgie ran away."..."Sleep Baby Sleep" is a pastoral lullaby that should feel like a baby being rocked gently…"Diddle, Diddle, Dumpling" is a wild musical romp.
Shewan's Mother Goose Gems won the NDSU Edwin Fissinger Choral Composition Prize in 2018.
The Tortoise and the Hare
Darmon Meador (b. 1961)
Aesop's familiar fable is set in a lively, upbeat style borrowing elements from Renaissance madrigals and contemporary jazz. The text explains the story of the slow and steady tortoise in a race with the speedy but arrogant rabbit who underestimated his opponent. The rabbit, believing he had plenty of time, decided to take a nap before finishing the race. While the rabbit slept, the tortoise continued to move toward the finish line. By the time the rabbit awoke from his nap, the tortoise had generated such a lead that the rabbit could not overtake him, teaching the rabbit a valuable lesson. "Slow but sure, tried an' true, is the moral of the story."
The Midnight Ride of Paul Revere
Gwyneth Walker (b. 1947)
Commissioned by the Lexington Pops Chorus in honor of the 30th year of their existence and the 300th Anniversary of the town of Lexington, Massachusetts.
Henry Wadsworth Longfellow's famous poem, "The Midnight Ride of Paul Revere," tells the story of the colonial American patriot who rides on horseback to rally his Massachusetts neighbors against the British militia. The route which the British are taking is relayed to Paul Revere by his friend in Boston, watching the army's movements and then hanging signal lanterns in the belfry of Old North Church."One if by land, and two if by sea."
The musical setting endeavors to capture the energy of horse and rider. Therefore, "galloping" rhythms are often heard in the piano accompaniment. As Paul Revere rides through the New England towns, the pace of the music quickens - Medford, Lexington and Concord. "So through the night rode Paul Revere." He keeps in mind his plan and his message: "One if by land, two if by sea. Arise! Defend our Liberty!"
Gwyneth Walker's ancestors came to New England in 1635, and Paul Revere is a distant relative.
–Notes by the composer
A Silence Haunts Me
Jake Runestad (b. 1986)
In 2017, Jake Runestad travelled to Leipzig, Germany to be present at the premiere of Into the Light, an extended work for chorus and orchestra commissioned by Valparaiso University to commemorate the 500th anniversary of Luther nailing his Ninety-Seven Theses to a door in Wittenberg, thereby kicking off the Reformation. While traveling after the concert, Runestad found himself in the Haus der Musik Museum in Vienna, where he encountered a facsimile of Ludwig van Beethoven's Heiligenstadt Testament.
It was the first time he had read the famous text, which is almost equal parts medical history (including Beethoven's first admission to his brothers that he was going deaf), last will and testament, suicide note, letter of forgiveness, and prayer of hope. Runestad was flabbergasted and found himself thinking about Beethoven, about loss, and about the tragedy of one of the greatest musicians of all time losing his hearing. Beethoven put it this way, "Ah, how could I possibly admit an infirmity in the one sense which ought to be more perfect in me than others, a sense which I once possessed in the highest perfection, a perfection such as few in my profession enjoy or ever have enjoyed."
When the American Choral Directors Association offered the Raymond C. Brock Commission to Runestad for the 2019 National Conference, he took many months to settle on a topic, finally deciding on setting Beethoven's words. While researching Beethoven's output around the time of the letter, Runestad discovered that Beethoven wrote a ballet, Creatures of Prometheus, just a year before penning his testament. "Beethoven must have put himself into Prometheus' mindset to embody the story," Runestad noted. "Just as Prometheus gifted humankind with fire and was punished for eternity, so did Beethoven gift the fire of his music while fighting his deafness, an impending silence. What an absolutely devastating yet inspiring account of the power of the human spirit. In the moment of his loss —when he wrote the Heiligenstadt Testament — he had no idea how profound his legacy would be" ("legacy" being one of the themes of this ACDA's anniversary conference).
Because of the length of the letter, a verbatim setting was impractical; Runestad once again turned to his friend and frequent collaborator, Todd Boss, to help. Boss's poem, entitled A Silence Haunts Me – After Beethoven's Heiligenstadt Testament creates a scena — a monologue in Beethoven's voice for choir. The poem is both familiar and intimate; Boss has taken the fundamentals of Beethoven's letter and spun it into a libretto that places the reader/listener into the same small, rented room as one of the most towering figures of the Romantic Era.
To those words, Runestad has brought his full array of dramatic understanding and compositional skill; A Silence Haunts Me sounds more like a self-contained monologue from an opera than a traditional choral piece. Runestad, who has published three operas to date, shows his flair for melding music with text even more dramatically than in familiar settings like Let My Love Be Heard and Please Stay. He sets the poetry with an intense, emotional directness and uses some of Beethoven's own musical ideas to provide context. Stitched into the work are hints at familiar themes from the Moonlight Sonata, the 3rd, 6th, and 9th Symphonies, and Creatures of Prometheus, but they are, in Runestad's words, "filtered through a hazy, frustrated, and defeated state of being."
In wrestling with Beethoven, with legacy, and with loss, Runestad has done what he does best—written a score where the poetry creates the form, where the text drives the rhythm, where the melody supports the emotional content, and where the natural sounding vocal lines, arresting harmony, and idiomatic accompaniment — in this case, piano in honor of Beethoven — come together to offer the audience an original, engaging, thoughtful, and passionate work of choral art.
–Program note by Dr. Jonathan Talberg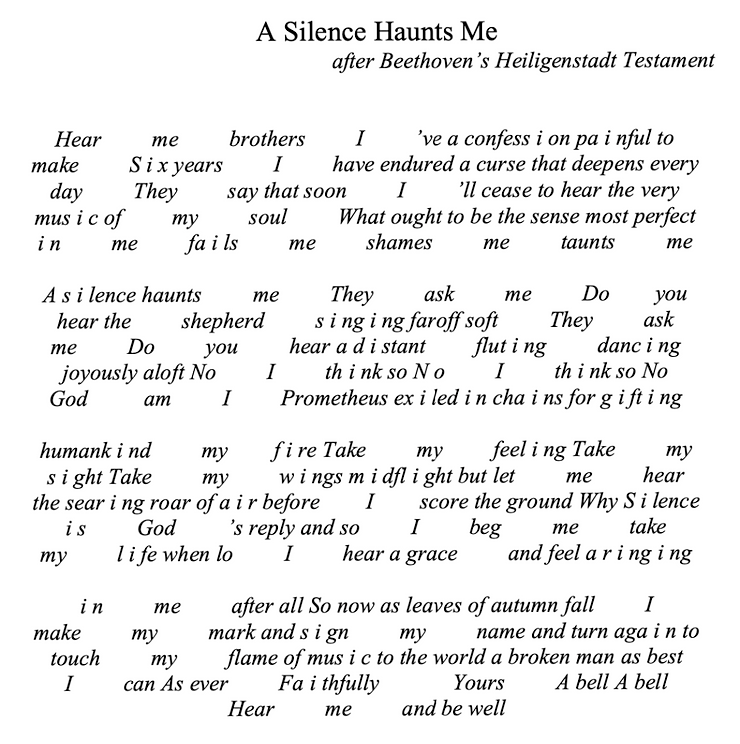 A Girl's Garden
Randall Thompson (1899-1984)
Composed in 1959, A Girl's Garden is one of seven songs from the choral song cycle, Frostiana. The poem, by Robert Frost, tells the story of a young girl who was given a small piece of land for a garden. Her father gave her sole responsibility for the garden where she experimented with lots of different crops, learning about gardening, of course, but also learning about work, success and community.
Thompson's setting is for women's voices which are in unison for the majority of the piece over an energetic piano accompaniment. The voice parts only separate for the last verse highlighting the moral of the story. Crisp rhythms and simple melodies allow the six verse text to shine.
The Preacher and the Bear
arr. Daniel McDavitt (b. 1979)
This American popular song was written in 1904 by George Fairman and has been recorded by folk, popular and gospel artists for over a century. The story tells of a preacher who encounters a bear while on a hunting trip. Fearing for his life, the preacher prays for deliverance, remembering the stories of Daniel, Jonah, and Shadrach, Meshach and Abednego who were all miraculously saved from death. This fun arrangement invites us into a Sunday church service where a preacher is telling the story to his choir and congregation.
Daniel, Daniel, Servant of the Lord
arr. Undine S. Moore (1904-1989)
Known as the "Dean of Black Women Composers", Undine Smith Moore thought of herself more as an educator than a composer. She taught piano, organ and music theory for 45 years at Virginia State College. Though she wrote over 100 compositions for a variety of media, she is best known for her choral music. Daniel, Daniel, Servant of the Lord is her best-known spiritual.
The Biblical story of Daniel in the lions' den is told from the king's perspective. King Darius, who liked Daniel, was tricked by those jealous of Daniel to make a law preventing prayers to anyone other than the king. Daniel was faithful to God and prayed publicly. His actions were reported to the king who had to follow his own law and put Daniel in the den of lions. In the song, we learn that God protected Daniel from being harmed or killed.
Witness
arr. Stacey V. Gibbs (b. 1962)
Witness recounts the seemingly unrelated Biblical stories of Nicodemus and Samson. This spiritual serves to educate about religion, telling stories of characters from the Old and New Testaments and repeatedly asking the question, "Who'll be a witness for my Lord?". The believers' response, "My soul is a witness for my Lord," is a commitment to live a Christian life. From the opening solo riffs, it is clear that this is not a straight-forward setting. Stacey Gibbs' arrangement of this spiritual borrows from blues and gospel using several soloists as "preachers" over a rhythmic choir accompaniment contributing occasional outbursts of commentary on the story. It is not until we approach the ending that the choir stands alone for one refrain leading us to a powerful call and response led by a stratospheric tenor solo.
Stacey V. Gibbs has established himself as a leading arranger of spirituals though composing and arranging is not his career. His compositions, of which there are over 70, are frequently performed by high school, college and professional choirs across the globe. He attended Kentucky State University and served as a student conductor while there. He is sought after as a clinician both domestically and internationally.
© 2023 Voces Novae. All Rights Reserved.